TentTube Design is a company currently raising money on Kickstarter. It is a company dedicated to developing superior products to families and those who are outdoor enthusiasts. They are focusing on delivering quality workmanship as well as exceptional customer experience with each of their products. The new AirFrame is an industry-leading feature and is the result of innovative technology advanced as well as advancing development.
Do you remember?
When on a family backpacking trip, were you the one who was always stuck packing the tent – poles making the entire pack very uncomfortable to carry on your back with all the other items you must carry. They were hard to pack, awkward to carry and not to mention – difficult to set up. This new company set out to begin a revolution, especially in the tent industry.
TentTube distribution
With their new tent, you get a 10x inflatable tent with air pump included at over $2490 which is 50% off the retail price and including worldwide free shipping. This includes:
10x TentTube inflatable tent
10x 2-way AirPup for TentTube
40x Tent Stakes
10x Carry Bag for TentTube
Ready to deliver
The estimated delivery of in July 2019 and ships to anywhere in the world, TentTube is made of high-quality materials with industry-leading Ripstop technology making it the best choice for adventures during any time in the year.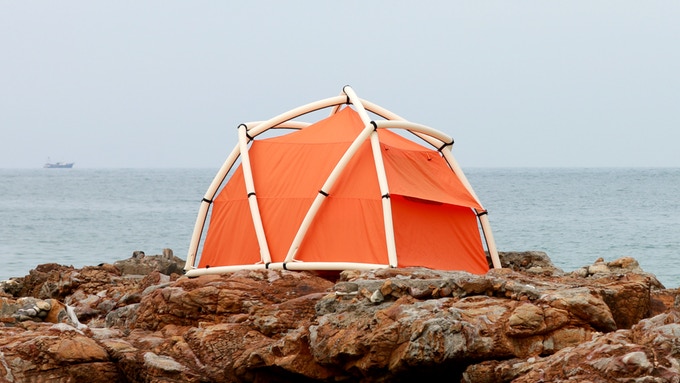 Material
It is also 300mm water resistant. The high-quality material is windproof and breathable at 33 mph. TentTube measures a spacious 7.4 x 5.2 x 5.1 feet. This family tent will sleep 2 to 3 people. It's great for camp, backpacking, picnics and a lot of other outdoor activities. Set it up anywhere; blow it up and Welcome Home.
TentTube
TentTube is a breeze to set up. It only takes 1 person, 1 air pump and about 1 minute. This entire project is sponsored by jellop, the ad tech power behind the best Kickstarter projects with 600+ Kickstarter projects being successful and over $300MM raised between all of them.
Trip is over
When your trip is over, just use the large valves to let the air out. It is as easy to take down as it is to set up. Packing a tent has never been this easy.
No more poles
By replacing the old-style poles with our patented inflatable AirFrame, TentTube is 50% lighter and smaller, making it your perfect home on the go. AirFrame makes the traditional poles a thing of the past. So, you can volunteer to carry the tent on the next backpacking trip.