OmiCam features its wearable design that comes with a lightweight body, a 240-degree lens, and a quick release clip. This design might not be vital for professional photographers since they get used to holding their cameras; however, it is an ingenious idea to outdoor lovers. People like exploring nature usually want to be fully live in the moment. If they take time taking care of their gear or whatever might distract them, the least lost is a glimpse of scenery while the most lost could be risking life in danger. In this case, OmiCam becomes an option no matter you are going hiking, biking, snorkeling, river-trekking.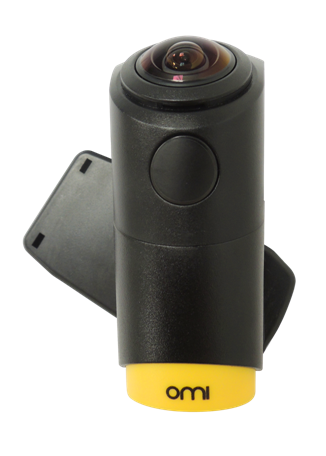 In this article, I am going to examine OmiCam with some critical functions for a qualified hiking camera.
#1 Stability of the image
To promise the best stability of the image, OmiCam develops a unique horizon technique that always gets the vertical image no matter how the camera is placed. I used my friend's action camera and OmiCam together when I was walking. Here is the testing result:
#2 Lifelog mode
Lifelog mode defaults as a continual recording which sustains the operation for 15 hours.
Compared to the regular recording mode, Lifelog records many short videos or take photos under a certain interval time (every1/3/5 mins according to your need).  Moreover, the way to start two modes is different; the shutter key is used for a regular video, while Lifelog button for many short video clips. Something important here is that by pressing the shutter key button anytime during operation, OmiCam will switch back to the regular mode. Also, the battery will be shortened to 3 hours since the standby time also consumes power.
#3 Weather Sealing
You can not always expect good weather while doing outdoor sports. OmiCam's level of water resistance is IP65, which means it is anti-scratch and splashproof.  The optional accessory of the waterproof case helps OmiCam to operate underwater and capture the stunning images.
#4 easy to use—recording and editing
It is easy to keep OmiCam always ready at hand. No need to take it out from the backpack, just mount it on the belt of the backpacker. Long press on the Lifelog button to switch photo or video, and then press the shutter key or Lifelog button to start and stop the recording depends on your needs.
For the user's convenience, users can download the Omi Studio app to access further recording options.  Previewing and editing videos right after recording is also possible in apps. While successfully connecting, the wifi signal will remain a steady light on instead of flashing. Omi Studio can also be download on PC/Mac.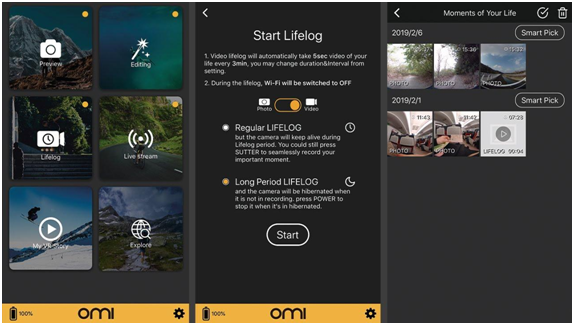 To sum up, it is an innovative and unique camera that is hard to find a competitive product. It matches almost every need for a long time outdoor activity enthusiasts. Also, it makes it much easier for VR photography beginners to start editing VR videos with their software OMI Studio.
Where to buy: https://www.amazon.com/Wearable-Outdoor-Blogging-Virtual-Reality/dp/B07QJBJG44
Official Website: https://www.omicam.com/
A package includes
Specs
Lens
 240° wide-angle lens
Maximum Aperture
F2.0
Video (up to)
4K 30fps
Photo
12M pixel
Dimensions
7.5 x 5.8 x 2.4 in
Weight
4 ounces
Battery
1100mAh
Battery
Built-in
working time
up to 70min (4K video)

up to 15hr (Lifelog)

Camera storage
v
Wearable design
Wear

Mounted

Holding

Stabilization
Optical Motion Intelligence
fit for different accessories
v
Durability(waterproofing)
IP65
Wifi/Bluetooth
v
Live Streaming
v
GPS
x
Time-lapse
v
Easy to share(on SNS)
v
screen
x
SW Functions
OMI Studio (App, PC),360 video editing
VR Watch modes
v